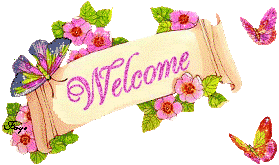 Beyond the gates of Butterfly Crossing is a  magical place unlike no other ~
Only the butterflies of TKC know the garden's special secret, but if you stay long enough, They might share it with you ..Or maybe perhaps you will see it yourself if you open your heart...
One of the things that makes this garden so special is the flowers that grow here. They require only the love & care of friendship ~
Keep that love growing by planting your own flowers. They are the perfect way to show your loved one that you're thinking of them.
~The flowers in Butterfly Crossing grow on the love and care of friendship~

 ~ Click Here To Enter The Garden ~